WOWOW's "Green Porno" Documentary Selected for Panoramic Section at Tokyo International Film Festival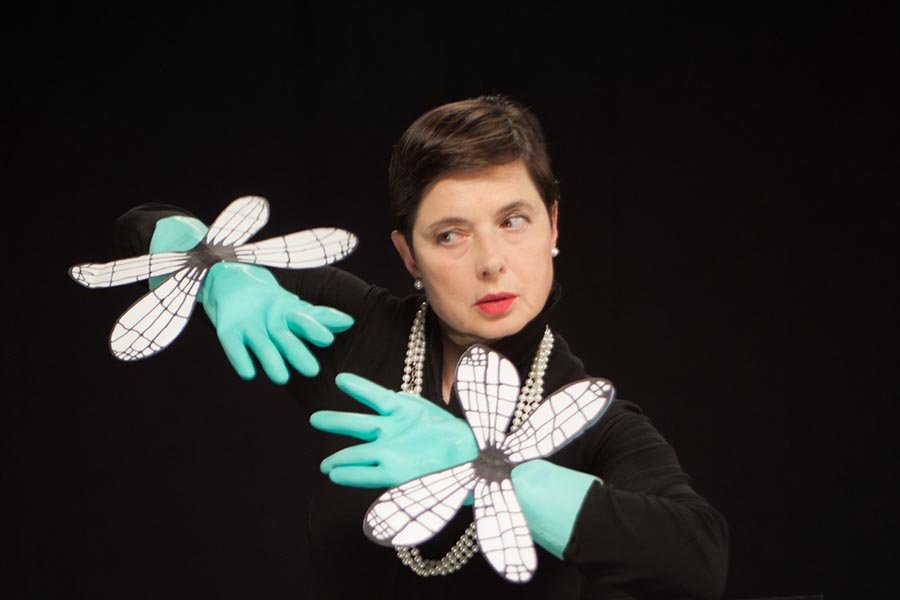 Norika Fujiwara Will Narrate and Voice Over Japanese Version of "Isabella Rossellini's Green Porno Live" from Isabella Rossellini, Sundance Productions' and WOWOW.
Tokyo, Japan - August 25, 2015 - It was revealed today that "Isabella Rossellini's Green Porno Live" has been officially selected to screen in the inaugural Panoramic Section at the Tokyo International Film Festival, which is held from October 22nd - 31st.
WOWOW, Japan's leading premium pay TV broadcaster, partnered with Sundance Productions on the film documenting the stage version of Rossellini's award-winning and critically acclaimed "Green Porno" series. Asexuality, bisexuality, heterosexuality and homosexuality, it's all happening in the animal kingdom and Isabella Rossellini brings it all to life on stage!
Along with the announcement of the film being selected to TIFF, it was revealed today that Popular Japanese actress and former model Norika Fujiwara ("Borderline," "Chance," "Light of the River," "Star Struck") will be the voice narrating and providing Isabell's voice over for the Japanese audience. Fujiwara's voice is a familiar one with Japanese audiences. She was the voice for Princess Fiona in the Japanese-dubbed versions of the all four "Shrek" films.
Kayo Washio, who runs WOWOW's Los Angeles office, executive produced the film with Sundance Productions' Laura Michalchyshyn. "Green Porno's" Jody Shapiro ("Burt's Buzz," "How to Start Your Own Country") directed the film. Sundance Productions' Molly O'Keefe is the producer. The editor of the "Green Porno" shorts, "Seduce Me" and "Mammas," Stacey Foster also returned for the feature documentary.
"I'm thrilled that 'Green Porno Live,' an amazing and thought-provoking documentary will be introduced to audiences in Tokyo at TIFF and premiering on WOWOW," said Kayo Washio. "Norika Fujiwara's talented voice is the perfect choice for this project since there are so many commonalities between them, not only in their professional careers - both being actresses, models and icons of cosmetic companies - but in their personal characters as well with their love of the animal world. We're excited to have her on board to tell the story of Isabella's triumphant one woman show."
Added Washio: "It has been an incredible experience working with Isabella Rossellini and her skilled team along with Sundance Productions on this wonderful journey. Viewers will be instantly immersed with Isabella's creative capacity much like I did when I was first introduced to her project. I cannot wait for festival goers to be awed by her talent!"
About Norika Fujiwara
Norika Fujiwara became Miss Japan in 1992 and was an exclusive model for Fashion magazine. She has appeared in many commercials, TV shows, and films in Japan, China, Hong Kong, and Korea as well as features in a few international films. Fujiwara was the voice for Princess Fiona in the Japanese-dubbed versions of the "Shrek" series.
After several years of model and acting work, she has since worked internationally as a journalist and spokesperson, including acting as an ambassador for the Japanese - Korean friendship during the 2002 FIFA World Cup, reporting from the 2004 Olympics in Greece, and going to Afghanistan and holding a photo exhibition there. She was appointed as one of Japan's ambassador for the Red Cross and goes on missions around the world to support people in need.
About "Green Porno"
In "Green Porno Live," Isabella brings her Green Pornos to the stage. This one woman show, based on her wildly popular short films "Green Porno," "Seduce Me" and "Mammas," has been performed internationally in France, Italy, the UK and Australia, and domestically in the U.S. in cities such as Brooklyn, Chicago, Pittsburgh, San Francisco and Washington DC, to name a few.
Tackling some important issues through these quirky, hilarious, kinky, innovative films, Isabella has put a unique comedic spin on animals and marine life. Similar to her films, Isabella delves into the mating and sexual habits that animals, insects and marine life exhibit in nature.
This special is the portrait of an artist as she prepares for performances in different cities all over the world. It is the evolution of Isabella's incredibly original Green Pornos from shorts to stage to documentary. We will follow her internationally, meet her fans, see how she prepares her costumes, works on the dialogue, and deals with the tech and logistical issues - all of which she controls. From cobble stone Piazzas, to small or large theatres to outdoor forums in Rome, viewers see her adapt to each location, the preparation leading up to the shows and her amazing fan base that comes out no matter how obscure the venue.
"Green Porno Live" touches on all of this and makes one wonder about "us" and our diversity. In a combination of costume changes, rear screen projection, puppetry and cheeky, comedic dialogue, Isabella teaches viewers about the extraordinary and always evolving world of the animal kingdom.
WOWOW retains Japanese rights to "Green Porno Live," while US rights are with Ovation TV. Forward Entertainment handles international sales rights.
About Isabella Rossellini
Isabella Rossellini is an internationally renowned and multi‐dimensional talent. In the 30 years since starting her career, Isabella has found success as an acclaimed actor, director, animal advocate and model. She has starred in films such as Blue Velvet, Fearless, and Death Becomes Her. Most recently, she won accolades for her series of short films entitled Green Porno in which she shares her passion for activism and love of animals. Isabella, known for her beauty as the face of Lancôme for over 10 years is now active on both sides of the camera.